DRI conducts litigation at the national and international level to enforce and expand the right of children and adults to live in the community with choices equal to others. Our cases seek immediate protections from neglect, denial of basic care, violence and trafficking and systemic changes in law and policies to address the root causes of segregation and abuse. See DRI's global docket of cases here:
To protect victims of abuse and ensure their full inclusion in society through international human rights bodies.
DRI is a pioneer in the use of international human rights law to demonstrate that community inclusion is not just good policy – it's an enforceable human right. 
An emblematic case:  41 girls killed in Guatemala's "Hogar Seguro"
DRI's litigation in Guatemala demonstrates the national implications of our work for the rights of all women, children, and people with disabilities – as well as the basic protection of human rights activists – when people in institutions can be stripped of all their rights.
DRI's work can be dangerous, as staff are often threatened. DRI currently has such a case pending against the Guatemalan government, who ran a 600 bed institution - Hogar Seguro – where 41 teenage girls were burned to death – when they were locked in a room as punishment for trying to run away from the facility. They were attempting to go public with what was happening to them – they were being raped, trafficked for sex and horribly abused. When the fire broke out, security and staff would not unlock the door. Since the fire, 61 children who also lived in the institution, and who witnessed the fire, are dead, and 94 others are now missing.
Thinking they would have a better life, families sent their children there because they had a disability, to get away from gang violence and due to poverty.
Guatemala – Families and friends carry one of the 41 girls who were burned to death at the Hogar Segura institution.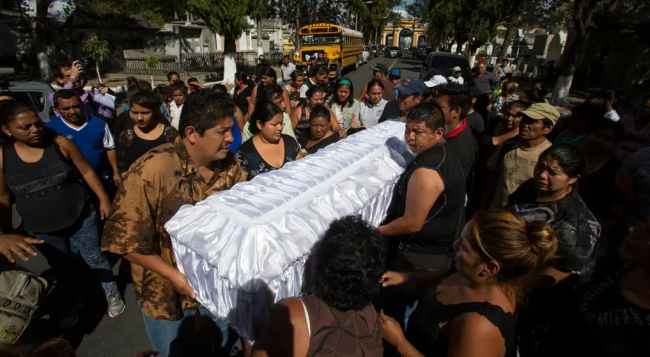 DRI took legal action in the Inter-American Commission on Human Rights (IACH), which has a mechanisms (called "precautionary measures") to demand immediate action to protect the most serious imminent harms.  In addition to calling for immediate action to preserve the safety of survivors, we called on Guatemala to guarantee the right to a family of the survivors because we believe that there can be no safety in Guatemala's institutions. We have called for survivors to be reintegrated to a family - their biological, extended family or a foster family with appropriate protections and supports for children and youth with disabilities.[1]
The New York Times - A Locked Door, a Fire and 41 Girls Killed as Police Stood By
DRI is working closely in partnership with local disability, human rights, and anti-trafficking groups. DRI is seeking the community reintegration for all the children with disabilities, survivors of Hogar Seguro. DRI is also seeking structural change to stop the segregation of children with disabilities (and all children) in institutions in Guatemala -which are inherently dangerous and abusive.
DRI's first case was in Paraguay, were DRI's legal action resulted in the government tripling its budget for community mental health and reducing the size of its institution by more than half.  The United Nations has profiled the case of Jorge, who was held naked in a cage at the institution before the case, and was able to move home with his family and work in the community with support generated by DRI's litigation.
What became a groundbreaking decision, DRI sent an "Urgent Appeal" to the United Nations Special Rapporteur on Torture in Geneva, stating the abuse suffered by children and adults with disabilities – especially those that are locked away and forgotten – is a violation of the UN Convention against Torture and Other Cruel, Inhuman and Degrading Treatment or Punishment. And the UN agreed, putting governments on notice that abuse and neglect – or worse – could be a violation of international human rights law.   
DRI also brought a case before the UN Committee on the Rights of Persons with Disabilities (CRPD Committee) against Serbia, where we are testing the idea that children have a legally enforceable right to live in a family – not a group home.  Two boys represented by DRI suffered immediate threats to their life and health in these orphanages, and the CRPD Committee has ordered "interim measures" to provide immediate protections to these boys.
Since then, DRI has won two precautionary measures cases against Guatemala to protect people in the country's abusive Federico Mora psychiatric facility and the Hogar Seguro orphanage.   DRI also has "contentious" cases pending against Guatemala and Mexico that have the potential to create legal precedent on the right to community integration for all people with disabilities in institutions.
Additionally, DRI is also working with the Meskito indigenous divers from Honduras. Poor and discriminated against, the Meskito people - without any safe and proper diving equipment – resort to deep diving underwater fishing, desperate to make a living. With no state supervision and labor exploitation, almost 50% of 9,000 divers have become disabled. - blindness, deafness, decompression syndrome, parapalegia and death. Most between the age of 21 to 41.
DRI has filed a case seeking a landmark decision by the Inter-American Court – that individuals impaired from the diving have a right to the support needed to live, work and participate fully in all aspects of society.
[1] Comisión Interamericana de Derechos Humanos "Resolución 8/17 Medida Cautelar No. 958-16: Hogar Seguro Virgen de la Asunción" (12 de marzo de 2017) https://www.oas.org/es/cidh/decisiones/pdf/2017/8-17MC958-16-GU.pdf